Independent - Stage 11 Hollow Grant Taylor Barcode Silver/Black Skateboard Trucks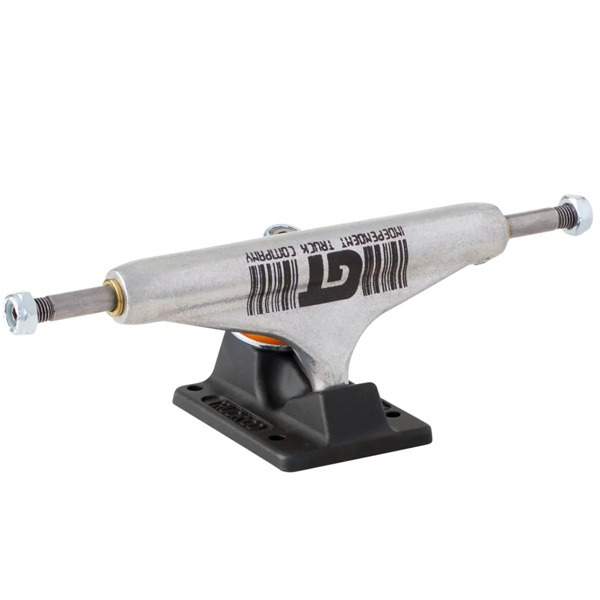 Independent - Stage 11 Hollow Grant Taylor Hollow Barcode Silver/Black Trucks
Independent Trucks Grant Taylor Pro Stage 11 Hollow features polished silver hanger with GT pad prints front and back, flat black powder coated baseplate with laser etched logo on rear kingpin housing, classic orange cushions, and silver hardware.


Lightweight version of Stage XI with hollow axle & kingpin. Durable all purpose truck for any type of skateboarding.

7% lighter than Stage XI
55mm tall for optimal performance and wheel clearance with wheels 56mm and under.

A356 T6 Aluminum Hanger & Baseplate
The best lightweight aluminum alloy heat treated to T6 condition for strength, durability, and grind feel.

Hollow Chromoly Axle & Kingpin
Highest quality hollow Chromoly steel for durability and weight saving.


| | | |
| --- | --- | --- |
| Model | Axle Width | Deck Width |
| 109 | 6.9" | 6.25 - 7.6" |
| 129 | 7.6" | 7.4 - 7.8" |
| 139 | 8.0" | 7.8 - 8.2" |
| 144 | 8.25" | 8.2 - 8.375" |
| 149 | 8.5" | 8.3 - 8.6" |
| 159 | 8.75" | 8.6 - 9.0" |
| 169 | 9.125" | 8.9 - 9.5" |
| 215 | 10" | 9.5 - 10.5" |