Ace - AF1 Silver Raw Polished Skateboard Trucks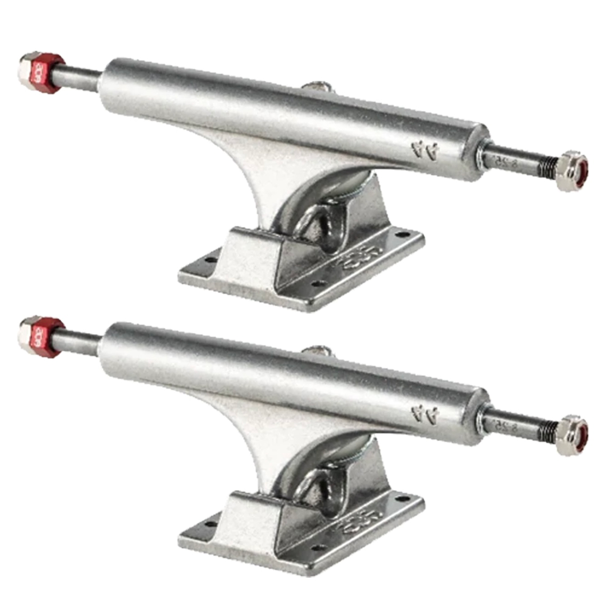 The Ace AF1 is not just a a cosmetic upgrade. The changes offer technology never seen before and some amazing new features. Let's take a look!
The all-new ACE AF1 features game-changing performance without deviating from our original Ace geometry. The AF1 is carefully manufactured using their proprietary casting process. Years in development, the ACE AF1 has a 70% increase in the aluminium's structural integrity, making it the strongest cast truck on the market. We updated the sizing on the 44 thru 77 models for a better fit across multiple board widths.
The Ace AF1, tomorrow's technology today! The new Trucks feature:
Manufactured with superior quality AA 356.2 alloy using our own proprietary casting method.

True T6 heat-treated base plates and hangers.

SAE 4140 steel alloy axles, oversized to eliminate bearing wobble.

Patent pending re threading axle nuts – no more damaged axle ends! 

Durable Hand-poured 96a urethane pivot bushings for smooth as silk response.

Refined bushing and cup washer shapes for a cleaner turn.

Machine-faced hanger ends for precise bearing contact.
You also receive an extra re-threading die you can keep in you field kit with every truck. It fits into any existing skate tool to re-thread damaged axles on any truck. This is a pretty cool little extra and I'll do a future post on just how to use this.
Ace Truck sizes and how they work:
The skateboarding industry's truck sizing systems are like it's bastard love children on crack. Ace is no exception and the new AF1's have sizing on new models different to their Classic partners. This is because… F#%K YOU! They still use the same model names as the Classics, which may cause some confusion. The 44 model for example has a AF1 axle width of 8.25″. The Classic 44 has an axle size of 8.35″. Before you get all bent out of shape, remember the difference between the two is only 0.125″ (3.175mm) and some fine tuning can be easily done to wheel position with shim washers to get your ride spot on. Check out the size chart here to compare the new sizes against the classic offering.